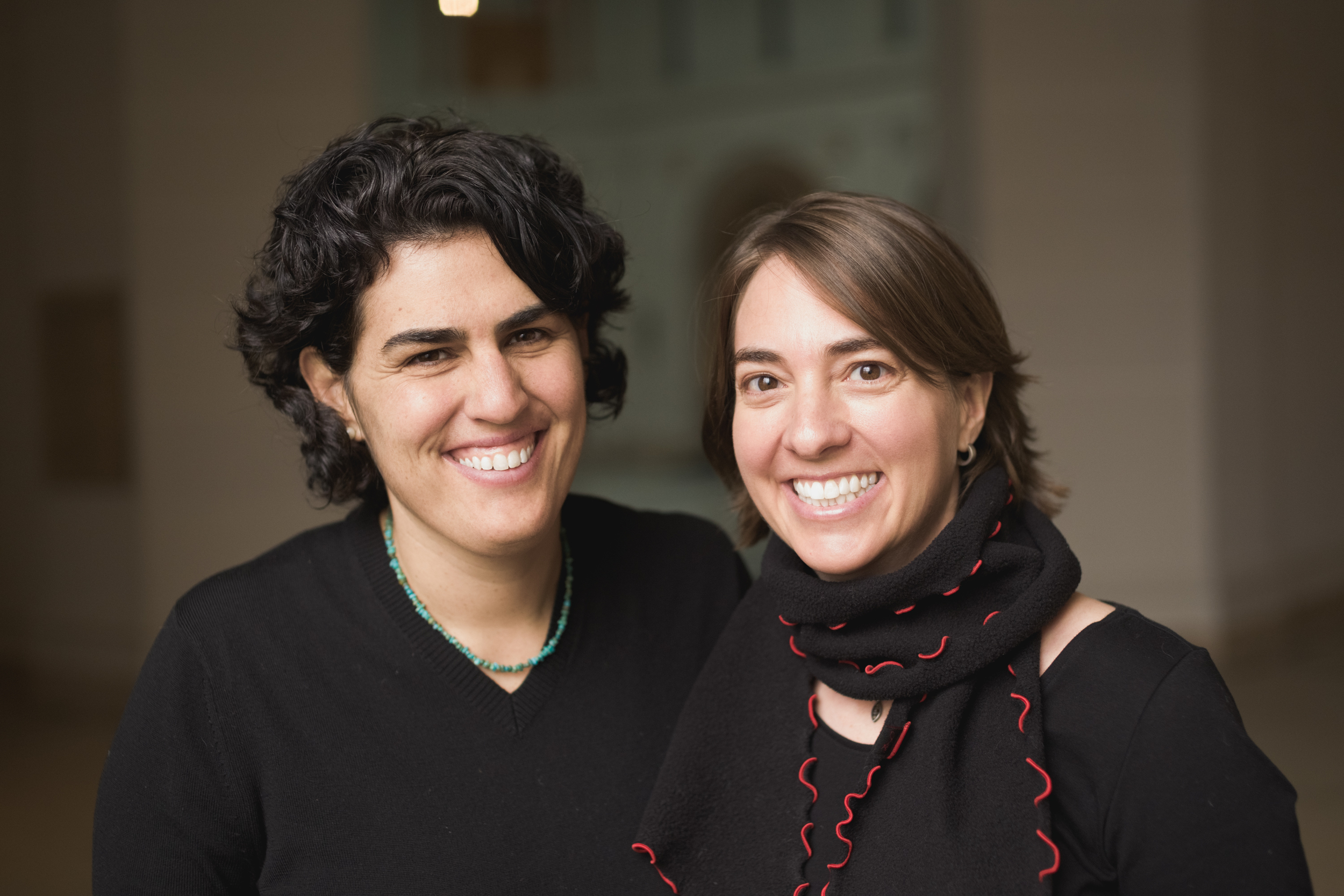 Francesca & Sarah
Hello,
We are so happy you are reading this letter! Thank you for considering us. We imagine this could be one of the most difficult choices you have ever faced. We are in awe of your strength. By way of these words, we want to give you an idea of who we are and of our life together.
We are Sarah and Francesca. We are excited for the journey of parenthood and look forward to helping our little one grow and thrive. We are both teachers and love children of all ages! We can't wait to take our child to parades, museums, and on bicycle rides and walking adventures through Central Park and through our neighborhood in the Upper West Side of Manhattan. We love animals, and can't wait to visit the zoo with our little one, and also share lots of laughter in our home with our two wonderful small dogs, Garbanzo and Kali. In the summer, we love to have picnics with our friends and family, to hike, swim, and watch the sunset and stars. In the winter, we love to ski and play in the snow. All year round, we love to cook and relax at home, and share meals with family and friends and each other. Our home is filled with unconditional family love and laughter. We are a very relaxed and happy couple!
Sarah through Francesca's Eyes:
I have known Sarah since we were both 17, which would be 22 years. After many goings and comings, lots of hours on the telephone, and years of friendship, we finally got married on July 14th, 2012 with the loving support of both our families! The quality that I most respect and value is her ability to truly be an authentic and loving human being. She is the person who I can be honest with and really share who I am free of judgment. These qualities lead her to be a gifted teacher. A few years ago I had the privilege of watching her with her bilingual kindergarten class. It was amazing to watch her make every single student in that room feel safe, seen, and loved. Each one was able to be in an environment where they could shine. What is amazing is that by Sarah really being herself and being open, those students were able to grow. She is the same way as a friend, and as a partner, and she will be that way as a mother.
Francesca through Sarah's Eyes:
Francesca is the most compassionate, kind, loyal, and honest individual I know. I appreciate Francesca's integrity as a person which is what drew me to be her friend in adolescence and now her lifetime partner. Francesca has a huge heart, and she always puts others before herself. She is a warm, soulful, caring, and passionate individual, which is why her students and teachers adore her and trust her as their assistant principal. She pours her heart into her family, her friends, and her work. She will be the type of mom who quietly encourages our child to try new things, be proud, work hard, be empathetic, and enjoy each moment of life.
Our Family
Family is an important focus in our lives. Francesca comes from a large Cuban family on her mother's side and a large Italian family on her father's side. Her mother raised Francesca and her brother as a single parent because their father died when she was seven. Francesca's Cuban grandmother was a big influence in her upbringing. We are very fortunate that Francesca's mother lives just eight blocks away from us, and that our whole family is based in New York City.
Sarah's family is also close by in Boston, and we visit them often. She grew up in a small town in Massachusetts with her mom, dad, and brother. Her two half sisters, from her father's first marriage, have always been a huge part of her life. Sarah's sister, Lynda, was also adopted at birth! Sarah's parents have been married for 43 years! We also love our trips to Sarah's family home in the mountains of northern New Hampshire. We have 11 nieces and nephews who are amazing cousins!
We can't wait to raise a child together! For the first 6 to 8 months, one of us will be at home with our child as we stagger our maternity leave. In our neighborhood, there are many excellent options for daycare, and public bilingual and private schools. We hope to raise our child bilingual (Spanish and English) and also honor their cultural roots and heritage.
A home with us includes unconditional love, an amazing education, financial security, and an extended family community filled with understanding, love, and support. We promise to always be open and honest with our child and hope to develop a relationship with our child's birthparents if they choose. Whatever you decide for your baby, we hope you find peace.
Warmly,
Francesca & Sarah
If you want to learn more about this family, please call 1-800-321-5683 or email helpline@spence-chapin.org
Dawn, Rolando & Hope
Dear Birth Parent:
Hello and thank you so much for reading our letter. We are Rolando and Dawn. We are returning Spence Chapin Parents and we hope to be able to provide a warm and loving home to your child. We own a home on a very pretty street just a few blocks away from a small park and 4 minutes away from the beach. In 2005 we adopted our beautiful daughter Hope. She was seven weeks old when she came home with us and she has been the light of our lives ever since. We are truly blessed. Hope is reading and writing and enjoying life and she is looking forward to being a big sister.
We have been married for 22 years. We met in the summer of 1987. After two years of dating we decided to get married. As a young married couple, we decided we didn't want to have children right away. We adopted a puppy and spent the first few years working and performing. We also traveled and took turns going to graduate school for our masters degrees, We were a busy married couple. When we were ready to have children we found that we didn't have any luck, nothing happened.
We tried a fertility doctor but realized that we would not give birth to a son or a daughter that looks like a mixture of the two of us. It hurt, we cried and decided where to go from there. After a disappointing start through the foster care system, we came to Spence-Chapin in 2004 and enrolled in the domestic adoption program. It wasn't easy and we had our doubts, especially after the first 12 months had gone by. All of that disappeared one September afternoon in 2005 when we finally got the phone call we had been waiting for. About a week later, we were holding our baby daughter in our arms. In the end, we had waited 14 months for our daughter and she has been our treasure ever since.
The last 6 years have gone by in a flash: day-care, preschool, kindergarten and now 1st grade with the end of the school year just around the corner; Hope will be in second grade this September. There have been birthday parties, summer camp and vacation trips to Arizona, California, Wisconsin, and Florida. Last summer, for Hope's 6th birthday, we vacationed in Disney World and even though it rained, Hope had a fantastic time. We enjoy weekend getaways to the country to be with family. We also visit with Hope's Godparents up state. Hope has been taking swimming lessons ever since she was 16 months old and she has taken to the water like a fish. When Hope is not taking swimming lessons she is studying ballet and tap.
We have so many wonderful memories as her parents watching her grow and experience life for the first time. We are looking forward to sharing the same experiences with another son or daughter. We always knew that one day we wanted Hope to have a little brother or sister. We both have brothers and sisters, Dawn has three younger brothers and I have two older sisters and an older brother. We want the same for Hope so she won't be alone.
We realize that your decision is a difficult one. We hope that you can take some comfort in knowing that we will love, protect and cherish your baby just as we have cherished our time with Hope. Both of our jobs have offer family leave so Dawn and I would each be able to take several weeks off to bond as a family just like we did when we adopted Hope. Dawn is home during the summer months and looks forward to spending those precious moments with our new baby. When we resume work, our baby will be with a loving day-care provider. We also have some really good friends who are willing to help us out with babysitting. Last but not least, Dawn and I have family in New York. My sisters and Dawn's cousins live in the city.
Your child will grow up healthy and happy in our home. We look forward to meeting you and we hope to continue a relationship with you. Our parents gave us lots of hugs and kisses, home cooked meals, family game nights, trips to the beach, help with homework, music lessons, family vacations and backyard barbecues. Hope has been able to share this wonderful legacy of love for the last 6 years and the three of us are ready to add another. We are very excited and so looking forward to this special time. Thank you again for reading our letter and opening your heart to us, we will be eternally grateful.
Sincerely,
Rolando, Dawn and Hope
If you want to learn more about this family, please call 1-800-321-5683 or e-mail helpline@spence-chapin.org
Mary, Tam & Amelie
Dear Birth Parent,

Our names are Mary and Tam, and we have been together for 13 years. We have an 18 month old daughter, Amelie, and our dog, Scotch. We're both extremely fortunate to have very stable careers. Mary is a project manager for an investment bank, and Tam is a systems manager for an aerospace company. We love to entertain and invite close friends over for dinner. We also enjoy exploring other cultures by trying new restaurants around the city and traveling to other countries.

We both grew up in Tulsa, Oklahoma, and our immediate families still reside there. Mary has two brothers. The youngest lives in New York City, and Mary's older brother lives in Tulsa close to her parents and grandmother. Tam, on the other hand, has a much larger family. He has his mother, 6 siblings, and 13 nieces and nephews! So you can imagine how crazy & fun it can be around the holidays. Several years ago all of Tam's siblings started a new family tradition. Each reunion, usually Christmas, we participate in a friendly competition. The first year's competition was a dessert contest. Competitors had to either make or buy dessert, and better yet, the judges were the children! The oldest is 22 and then it tapers down to 1 years old. We had so much fun, and the kids enjoyed the sugar rush. We have to say that we did win the dessert contest that year and were entitled to friendly bragging rights for the rest of the year. Although we weren't able to reclaim victory after that with the Christmas card contest and this past year's ugly Christmas sweater contest, we absolutely enjoy spending time with everyone around the holidays.

Our immediate plan, when we receive a child, is to take 8 to 10 weeks away from work. This will provide us the opportunity to bond with the child and enjoy family life in Greenpoint, Brooklyn. Greenpoint is an up and coming neighborhood home to many young professional and families. There are plenty of playgrounds nearby with children of all ages, and the Transmitter Park with Manhattan views from the East River is perfect for a family picnic or stroll in the warm weather. There is also several children's center just a few blocks away that offers a wide variety of activities. Further, Tribeca Pediatrics is within walking distance and will be the primary provider for the child's healthcare. As far as education, PS 34 serves pre-kindergarten through 5th grade. We believe that Greenpoint offers everything we need to raise our family.

Family is important to both of us, and we are very grateful that we have the opportunity to add to our family. We were once two unrelated people but have found each other through friendship, trust, love, and most importantly family. Likewise, we may not have known each other before, but will be brought together through the love of a child. Your family will be giving us the most beautiful gift in life, and similarly we hope to give him/her the best opportunities.
Sincerely,
Mary, Tam, & Amelie

Adoptive Parent First Names:
Mary, Tam
 
Age:
33, 37
 
Education:
Bachelors, Masters
 
Occupation:
Project Manager, Systems Manager
 
Language Spoken:
English/Vietnamese, English
 
Religion:
None

Religion in which child will be raised
No specific religion will taught; however, the importance of ethics and respect for other's faith will be stressed
Children in the family
1
We are most comfortable raising a child whose birth parent background is:
Any race or ethnicity

We would like to adopt a child whose age is between:
0-1 years old
We could consider a child with legal risks:
Minimal. We would consider minimal amount of drug exposure and minimal amount of alcohol exposure.

In the best of circumstances, we can imagine:
We are committed to developing an open relationship with the birth family throughout the child's life. For the first visit, we are most comfortable with seeking assistance from the agency to facilitate. As we become more comfortable with each other, we look forward to face to face visits twice a year that we would arrange directly. Additionally, we look forward to keeping in touch more frequently though other mediums: email, video chats, dedicated website where we can post pictures/updates, and periodic phone calls.

If you want to learn more about this family, please call 1-800-321-5683 or e-mail helpline@spence-chapin.org.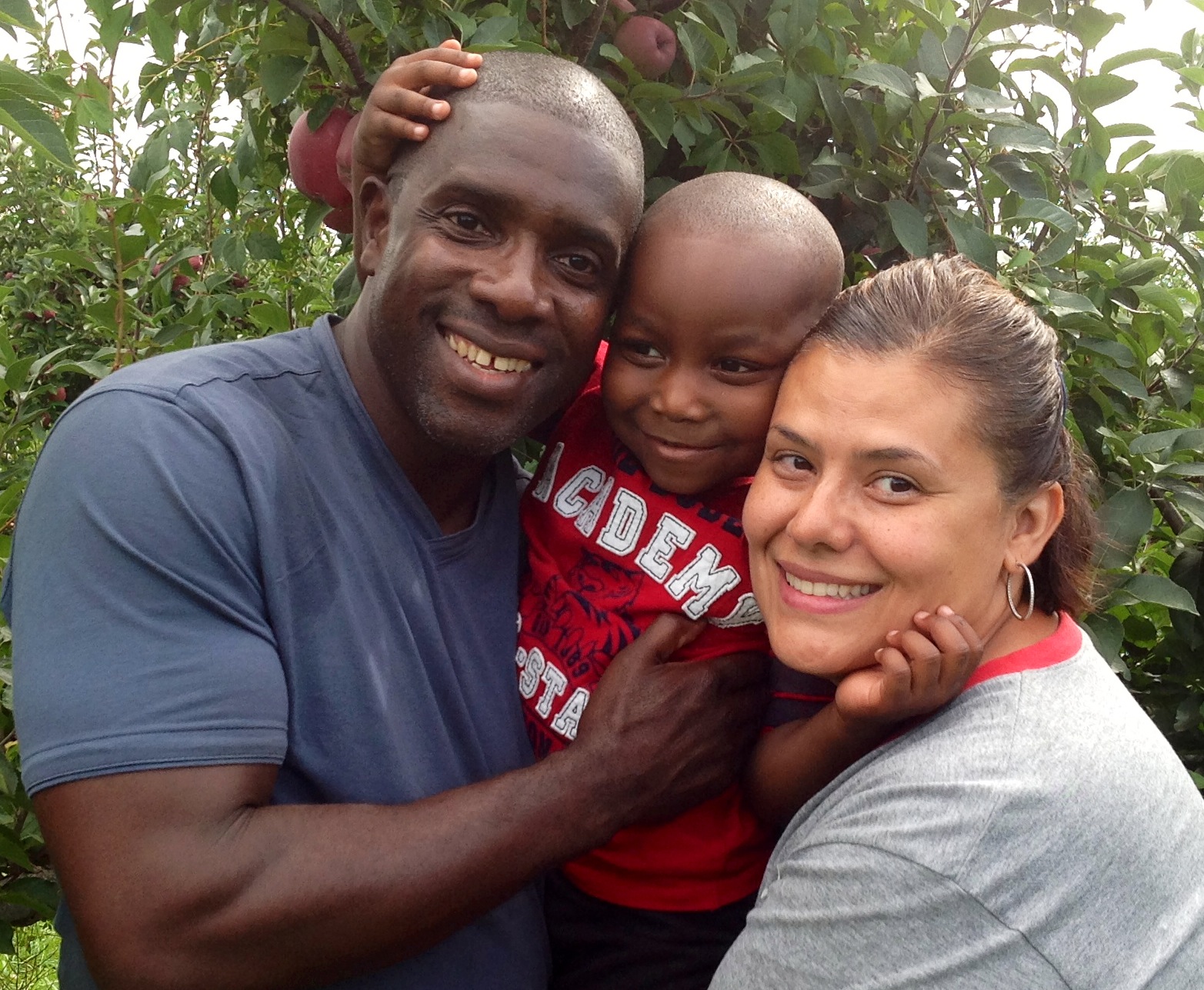 Dalila & Anthony
Dear Birthparent,
We are Dalila and Tony and we would like to thank you for reading our letter. We know that this is a very challenging time for you as you are making the decision for the future of your child. We wish you lots of strength as you continue on your journey and know that whichever path you decide to take it will be a decision based on the deep love that you have for your child. We came to Spence Chapin four years ago to start our family. We always knew that adoption would be the way we would start our family.
We first met our son Dalante when he was just 6 weeks old. Being first time parents was one of the most precious experiences for us as we wanted to share our love with him as well as ensure that he would get the best care and education. Dalante is now 3 years old and he is in a nursery program where he enjoys learning and playing with his friends. We are so excited about making him a big brother. We tell Dalante that he will be a big brother and he smiles as he asks, "Mommy, where is the baby?" We know that he will be a loving big brother and the new baby will be his best friend. He can't wait until his new brother or sister arrives!
Dalila and Tony met in October 2004 at a birthday party and it was love at first sight. We knew that we were meant to be together and have been happily married for almost eight years. We live on a quiet street in a brownstone in Brooklyn's Bedford Stuyvesant. Our neighborhood is quite diverse and we are close to many parks and museums. We have a friendly black Labrador named Bella. She and Dalante are best friends and have great adventures each day.
Dalila is looking forward to taking care of our future baby. She loves to cook big family dinners. Dalila enjoys taking long walks in the park with Dalante and Bella. Education is very important to both of us and Dalante is a regular at "Toddlers & Books" story time at the library and at the Brooklyn Children's Museum. Tony works for the Department of Health and loves his job. He spent his childhood in London, England and at the age of 14 he came to the USA with his father. Tony loves to keep up with current events both local and international news. He also loves to tend to his garden where he grows tomatoes, corn, peppers, cilantro, and many more vegetables.
We love to travel and we plan a family vacation every summer. Dalante has already visited Martha's Vineyard, Connecticut, Sesame Place, and of course London. One of our favorite things to do is to pack a picnic and head out to the park to relax and have fun. Brooklyn is rich in culture and activities for families and we take advantage of every event possible.
Once the baby arrives, Dalila will be home to care and nurture the baby for three months. Tony will take off 4 weeks from his job so that we can all bond as a family. Our families live close by and Dalante spends plenty of time with his grandmother, aunts, uncles, and cousins. They are also looking forward to a new baby becoming part of our family. This baby will be welcomed and deeply loved. We will provide an environment in which your baby will be safe, healthy, loved, and exposed to many cultural and educational experiences.
We hope that you have learned a little more about our family. We hope to fulfill the dream of growing our family soon. We wish you the best now and always.
Love,
Dalila and Anthony
If you want to learn more about this family, please call 1-800-321-5683 or e-mail helpline@spence-chapin.org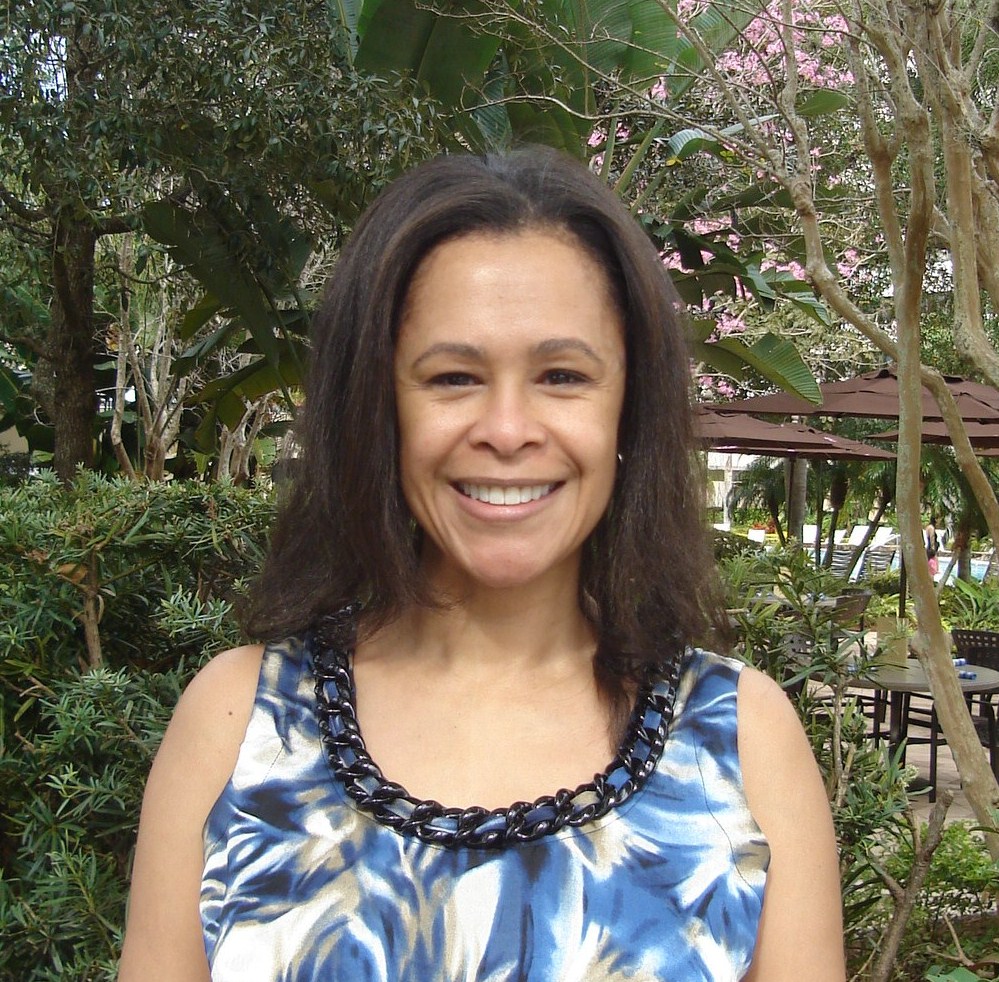 Marsha
Dear Birth Parents,
It's a pleasure to present my story to you as I start my journey to motherhood. I am humbled by the thought of the challenging time you must be going through as you decide on an adoption plan.
It has long been my dream to be a mother; and I greatly appreciate your consideration as I start my family through adoption.
I live in a residential area of New York City that has a suburban feel. There is demographic and ethnic diversity here. There are parks, restaurants, and many daycare options. The area hospitals are the best in the country. The local public and private schools are some of the best in the city. I work as a marketing director for an educational publishing company. Because of my work in the education industry, I fully understand the impact of a quality education and will make sure my child has the best education possible.
I grew up in New Jersey with two loving parents who still live in the house I grew up in. My mother was a college professor and my father was an electrical engineer. I have a large extended family – thirty first cousins, more second cousins, and aunts and uncles who live in New Jersey, New York, and throughout the country. We get together for various occasions or for no particular occasion. When we're not together we talk, text and email each other. My family is excited about my plans to adopt and to have another child in the family. I have a close circle of friends, and they are also excited about my plans to adopt. My friends who are mothers are looking forward to their kids having a new friend and playmate.
There are adopted children in my family and social circle. I have two cousins who have adopted (one with young kids), and one of my best friends adopted an infant daughter a few years ago. My child will have cousins and a close friend who are adopted.
Adopting a child will give me the chance to provide a rich, stable, and loving life for a child who needs and deserves it. I will give this child the gift of self-love and a strong spiritual and emotional foundation so he or she grows up to be happy, successful, and confident. I attend church regularly and plan to raise my child with Christian values. I plan for us to travel throughout this country and others and experience many cultures. My child will find joy in day-to-day activities - making pancakes for breakfast, baking cookies, running in the yard, playing in the park, taking up sports, playing an instrument, listening to music. I look forward to him or her developing lifelong friendships, knowing his grandparents, playing with cousins and (hopefully one day) siblings.
I will be a nurturing parent. I believe that praise and encouragement help develop a child's self-esteem. Good behavior should be noticed and encouraged and bad behavior should be redirected and corrected. I plan to take a three-month maternity leave. Afterward, I plan on hiring a nanny. My family will also help with child-rearing.
I want my child to have knowledge of his or her biological lineage. I hope to maintain contact with you through email and photos, and hopefully through periodic meetings. I hope by choosing to give your child a life he or she may not otherwise have, that you are able to pursue opportunities and live the life of your dreams. I want to thank you for considering me as an adoptive parent.
Sincerely,
Marsha
If you want to learn more about this family, please call 1-800-321-5683 or e-mail helpline@spence-chapin.org.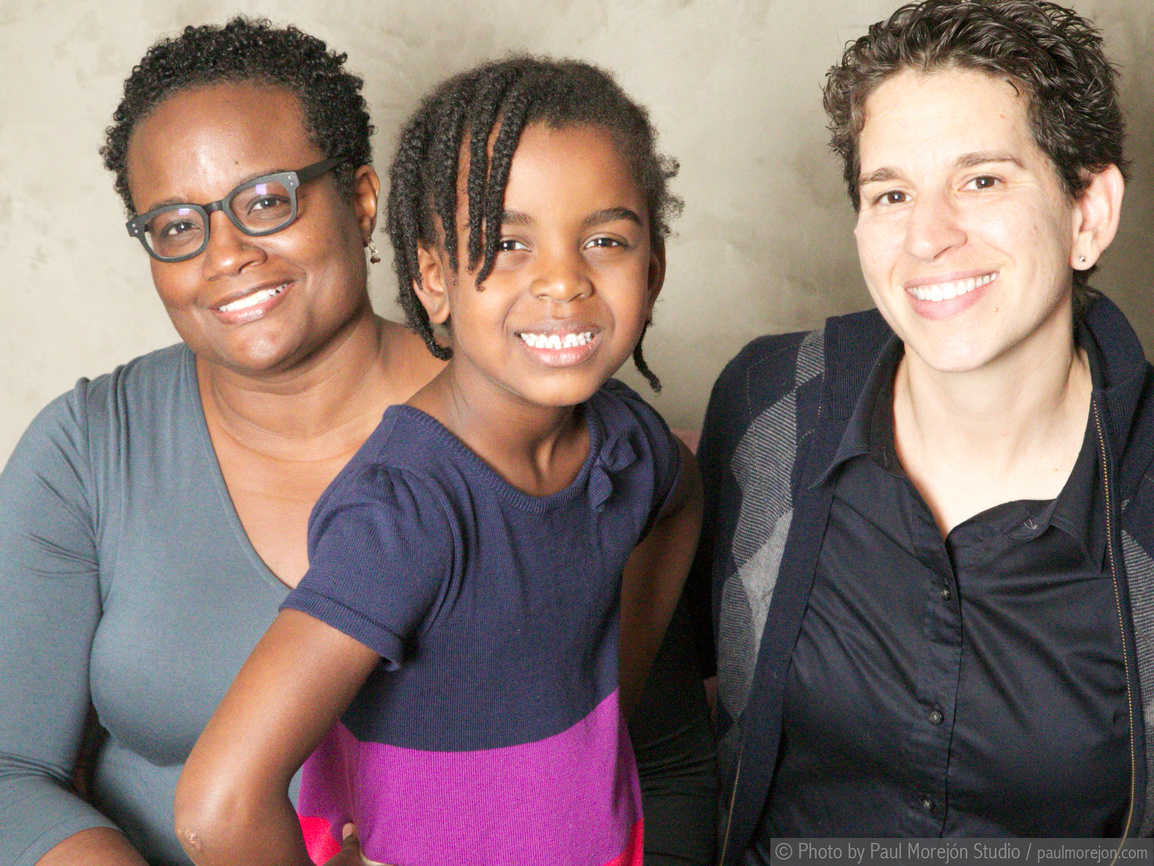 Retha and Jen
When I think of home, I think of a place where there's love overflowing.
—The Wiz
Dear Birthmother,

As you read this letter, please know that we respect how much courage it must take to consider adoption for your birth child.
Your journey is an individual one, and we recognize the difficult decisions you may face as you consider finding an adoptive family for your birth child. Should you choose us as parents we promise to love your birth child fiercely. We know this because as adoptive parents to our four year-old daughter we have been honored and privileged to experience how much our hearts have grown with an abundance of love. Our daughter is secure within her family and is blossoming into a wonderful, bright, funny and caring girl who will be a great big sister. We understand that parenting is a joy and a challenge and are committed to supporting our daughter in developing her strengths, passions, talents and joys; we look forward to doing the same with her future sibling. Having maintained a relationship with her birth mother, we recognize how deeply important this relationship is and look forward to creating a unique one with our future child's birth mother or parents.
We are a married same-sex couple that has been together for over ten years in a relationship that is solid, supportive and loving. We enjoy time together, supporting each other as individuals and as a couple. Our role as parents has strengthened our commitment to each other and we've always planned to grow our family through adoption.
We live in New York City in a diverse neighborhood with a rich history and many parks and activities for children. Our daughter goes to a great preschool and takes classes such as art, swimming and ballet at community organizations. We love city living and exposing our child to all of the great things the city has to offer. As a family we enjoy cultural events such as plays, puppet shows, dance and music performances, museums, art galleries and playing in one of the many parks that surround our neighborhood.
When we recently celebrated our tenth anniversary, we were joined by a village of relatives, friends and neighbors, all of who make up the tribe of Aunts and Uncles that will continue to be part of our daughter's life. That community provides support and love for us both as a couple and as a family. We both come from small immediate families, and both lost our own mothers to cancer several years ago. These losses have helped us to recognize the preciousness of life and love, and the need to express that daily. Weekends we seek out local festivals, shows, museums, community gardens, neighborhood events, or family dance parties. We plan a few annual trips-- to a jazz festival, a beach week, and visiting cousins.
Jen is a healthcare provider at community clinic, working with teenage and young adult patients. She is also a compassionate and committed neighborhood organizer who is involved with a number of local committees and park groups working to improve local schools, public spaces, and streets. Retha is a part-time college administrator and student advisor and writes about black culture and history. Because Retha works part time, she will be able to spend a great deal of time at home with the baby in infancy and beyond. Jen works four days a week; as with our first child, she plans to take significant time off from work for at least the first six months so the baby will always be with one of us. We share of love of the arts that we want to pass on, along with the value of honoring and respecting all people. As parents we are committed to providing excellent education and life experiences both in school and the classroom of the world. But the greatest thing we can promise is that we will love our children fiercely.
With every good wish,
Retha and Jen
If you want to learn more about this family, please call 1-800-321-5683 or e-mail helpline@spence-chapin.org.
Eli and Donna
Hello.....and thank you so much for taking the time to learn about us. We admire and respect your courage in considering an adoption plan for your baby and hope this letter gives you a good picture of our life as a family.
We have been married for 14 years and are blessed to have three wonderful sons, Ethan (age 9) and Donovan (age 11), and Joshua (who is 24 and lives in Texas). Coming from large extended families and Donna having an uncle who was adopted, we are excited to expand our family through adoption. With a lot of love to share, we are so looking forward to becoming parents again! Our sons have been asking for a little sister or brother and we know they will love your baby as they love each other.
Eli was born and raised in Raleigh, North Carolina and is the eldest of four siblings. He is of primarily African-American background with some White and Native American ancestry. Donna was born and raised in Queens, New York and was an only child. Her parents are from Barbados, an island in the Caribbean, and have a multi-racial background with ancestry from Great Britain, Portugal, India and Guyana. Our son Joshua, from Eli's first marriage, is half Mexican. So we know that a child of any combination of race/ethnicity will be welcomed into our very diverse extended family with members of every race and complexion (just take a look at our photo book).
Some of the words our friends use to describe Eli are funny, hard-working and athletic. Some of the words our friends use to describe Donna are warm, affectionate and family-oriented. Being parents is our greatest joy, watching our children grow, mature, learn new things and develop new talents. People often mention how smart, funny, and kind our boys are and we are so proud of that.
We help with homework, eat dinner as a family every night, watch funny TV shows and movies together, play outside, and spend a lot of time just laughing and having fun. We encourage our children to participate in all kinds of sports and activities. Joshua did many different sports when he was younger and is now a competitive bodybuilder. Donovan and Ethan do karate, soccer, basketball and lacrosse. They also take piano lessons and Donovan is on the robotics team at his school. Eli coaches their basketball teams and we love going to all of their games and recitals. We like visiting museums, art galleries, and attending theater and dance performances together. Family vacations in the last few years have included trips to Washington D.C., Alaska, Montreal, Disney World, Barbados and Puerto Rico. We will continue these family activities and trips with our new baby to also help develop his or her interests.
Education is very important to us and we have carefully selected schools and that nurture our children both academically and socially. We have many great school options in our area, including a childcare center onsite at work, the private Montessori preschool that Donovan and Ethan attended, and the small private elementary school that they also attended.
As experienced parents, we feel well prepared to welcome your baby home. Donna will be at home with the baby full-time for the first 3 to 6 months, and when she returns to work, our mothers will each stay with us for a few months. So the baby will be cared for at home by us and their grandmothers for most of the first year. Both of our jobs are only 30 minutes away from home and we can take time to attend school events and trips, or if one of the kids is sick. We live on a quiet street with lots of great neighbors and families with children. We love the green spaces, safety and racial diversity that our northern New Jersey community provides. We are also fortunate to have a lot of friends who have created their families through adoption, including several at Donovan and Ethan's school who have wonderfully blended families of adopted and biological children.
If we are chosen to adopt your child, please know that he or she will be coming into a family full of love and affection, always nurtured and protected. We wish you all the best and hope to meet you soon.
Eli and Donna
If you want to learn more about this family, please call 1-800-321-5683 or e-mail helpline@spence-chapin.org.
Frances
Dear Birth Mother,
I do appreciate that this is a very difficult decision for you to place your baby in another persons care. I understand that you want to make the best possible plan for your baby. Even though I would be a single mother, I hope that you will still consider me. It would be an incredible honor to parent your child. It has been my personal dream to be a mother for a very long time. I can also assure you, that you would be included in the baby's life. I will keep you informed on all the child's milestones through pictures, letters and meetings with the child, depending on your own comfort level. I understand that it is important for all people involved to have an ongoing, open, honest relationship. Whatever your decision is, please know that I will give the child my all. I wish you only the best.
Let me tell you a little bit about myself. My name is Frances. I work as a nurse at a hospital in the New York City area and I make a good living. I enjoy my work and taking care of the patients. I live in a beautiful area in Queens where there are parks, lots of trees, restaurants, and many young families with small children. It is ethnically diverse with people from many different cultures and beliefs. I would love to have my own baby and take walks in the park and around the block. I have a happy life, and I come from a loving family. I promise to be the best possible parent, and for the child to grow up in a loving, stable home filled with hope, warmth and security.
In my spare time, I enjoy cooking . I often try to make recipes from Indian and Middle Eastern cuisine. Some turn out good, some not so good. My sister loves my Indian recipes, especially my chicken curry . I am also trying to learn Arabic as a second language. I've been taking lessons for a couple of years. It is a difficult language, but I enjoy it. I have a long way to go. I love traveling and I plan to go on family vacations with the child. Me and my family often went on family vacations to Florida. I look forward to doing the same with my future adopted child.
I plan to take 3-6 months off from work, initially, after placement of the child. I am also planning on hiring a nanny to help me care for the baby once I do return to work. My sister and aunt are very supportive and are also available to assist me. I believe I am able to provide a safe, stable, secure, loving home. I look forward to adopting a baby . My goal is for him/her to reach their fullest potential as a human being. I will do everything possible for the child, so that he/she will grow up to be a confidant, moral, well-adjusted adult. I also have an extended family in the New York, New Jersey, and North Carolina area. I also have many cousins in Italy as well as Ireland. They would be thrilled to welcome your baby into our family.
I am Catholic and I believe religion is important. I attend mass regularly. With Gods help everything will work out. I want you to know that I will encourage and enroll the child in activities, such as sports and/or learning a musical instrument depending on their interest s. I am sure the child will be interested in many things that I don't know anything about. I look forward to learning more about their interests, and going to recitals, school plays, or events that they are interested in. I also want them to have a very good education, so that they will have opportunities when they become an adult. I look forward to doing things together as a family, and helping him/her grow into a responsible, mature, happy person. Again, I hope you will consider me. I would welcome you and your baby into my life. Take care and all the best.
Frances
If you want to learn more about this family, please call 1-800-321-5683 or e-mail helpline@spence-chapin.org.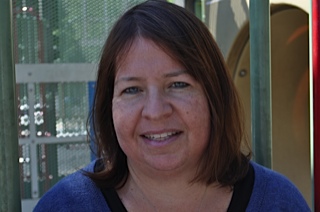 Heather
Hello,
My name is Heather and I am truly looking forward to starting a family through adoption. My heart has always been open to loving a child of my own. I have been blessed to work with special education preschool children for the past twenty years. My passion for teaching and learning has helped me appreciate every day. I have a positive outlook on life and see the glass as half full. My students have taught me how important it is to laugh, make friends, overcome obstacles and be true to yourself.
I am an independent, passionate and grounded individual. I always believed in following my dreams and taking chances. I navigate obstacles by finding another route. I am supportive and a great listener. My role models have been my grandparents whom overcame circumstances that I could hardly imagine (i.e. holocaust and the depression). I was brought up in a very loving household with my parents and two younger sisters in Park Slope, Brooklyn. I have fond memories of bicycling, roller skating and jumping rope in Prospect Park. On the weekends I would visit the Botanical Gardens, Natural History Museum and Children's Museum with my family as well. Trips to Jones Beach and Six Flags Amusement Park were full of joy in the summer time. We were always busy taking swimming lessons, sports and ballet classes. Our family was very close and enjoyed celebrating birthdays and holidays together. I had a very happy childhood.
Deciding to place your child for adoption is a loving act. The love that a parent has for their child is difficult to measure. I remember reading the story "Guess How Much I Love you" by Sam McBratney where a baby rabbit tries to determine how great the love for the mother and child is. While the baby rabbit tries to answer this question, his mother does not have to search far for the answer. As you make the decision that is right for your baby please know that I have a lot of love to share.
I am approaching the adoption process as a single parent who has a strong support system. My family and close friends could not be any more understanding, helpful, supportive and genuine. My friends come from diverse backgrounds and I have enjoyed being a integral part of their families. Sharing dinners, celebrating holidays and multi-cultural festivities have been wonderful. I am looking to sharing these memories and experiences with my own child someday. I embrace individuals of all cultures and backgrounds. I consider myself to be a spiritual human being rather than follow conservative beliefs. My family gathers together during the holidays to celebrate life and to recognize the joys and sorrows of our ancestors. Individuals of all denominations are welcome.
I am a true believer in creating a safe and caring environment for my child. Setting a routine and being consistent are very important to me as well. I look forward to passing on the supportive and unconditional love that I received as a child. This strong foundation that I experienced included fulfilling responsibilities and following rules. My sisters and I had a curfew, helped with household chores, and completed our homework/assignments. While we did not always agree with my parents rules there was a reason why they made them. They loved us.
I would like to spend at least 3 months at home with my child. As a single mom, I need to continue providing for my family financially. My plans for childcare entail enrolling my child in a neighborhood childcare facility or hiring a nanny.
Thank you for taking the time to listen to my story. I wish you all the best and look forward to talking and meeting with you in the future.
Best Wishes
Heather
If you want to learn more about this family, please call 1-800-321-5683 or e-mail helpline@spence-chapin.org.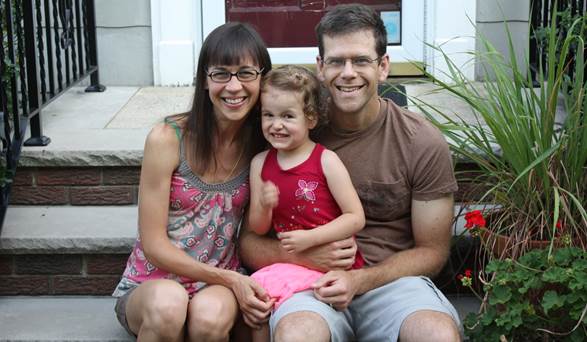 Amy and Dave
Dear Birth Parent,

Eliana knows her adoption story. We often talk to her about the joy of being chosen to be her parents. She asked that we let you know how much she wants a sibling.

How selfless and courageous you are to consider making an adoption plan for your baby. We are in awe of your strength and honored that you are considering us as potential parents. We have been married for 13 years and adopted our daughter Eliana over 3 years ago when she was a baby. We spend most of our free time as a family—cooking, walking, going to playgrounds and libraries, traveling, reading, and gardening. Something as boring as going to the grocery store has become an adventure. It used to be a chore—now, we literally stop to smell the soap and coffee beans. Gardening has always been one of Amy's hobbies, but Dave and Eliana joined in on the fun by planting a vegetable garden in the front yard. "Farmers Dave and Eliana" grow delicious, organic tomatoes, carrots, beets, and herbs. They are always talking about what they should plant next.

We love to travel! Starting with our romantic honeymoon in Hawaii, we have made it a priority to explore new places. Before Eliana, we enjoyed snorkeling, sunbathing, and camping on several Caribbean islands, canoeing and hiking in the Adirondacks, and skiing and whitewater rafting with family in Colorado. Wherever we go, we dive right in by experiencing and learning about the local culture. Now, we get to share these wonderful experiences with Eliana. We have vacationed as a family in Puerto Rico, Maryland, Colorado, the Poconos, and the Jersey Shore. Every experience is new and even more exciting when you are seeing it through the eyes of a child.

We are a multicultural family—of Cuban, English, Irish, Polish, Scottish, and Slovak descent. The Cuban comes from Eliana, so in an effort to help her embrace her cultural identity, we are learning Spanish as a family. Eliana has become fluent, whereas Mommy and Daddy lag behind! We read books and watch movies and TV in Spanish and seek out opportunities to practice our Spanish through playdates, cultural events, and friendships. We look forward to adding additional cultures to explore.

We look forward to sharing all of life's experiences with our new child. Though we are enjoying the pre-school years and look forward to Eliana's school years and beyond, we haven't had our fill of "babytime." We look forward to experiencing the moments when our next child discovers his or her hand for the first time, starts to speak (through coos and squeaks), and presents us with the first smile (even if it's just gas). We (all three of us) want a baby to cuddle and love.

We each grew up with a sibling and always envisioned a family of four. Siblings provide each other with love and support that can only come from a sister or brother. Only a sibling can really tell you if your clothes are in style or understand if your parents are embarrassing you. In addition to bonding from having the same parents, like other siblings do, Eliana and her little brother or sister will have the advantage of both having been adopted, an experience that only adoptees can share.

We would be honored if you would consider us as the parents of your baby. We would welcome the opportunity to meet with you and answer any questions that you have. Through open adoption we believe that our family is not going to grow by one member but by 2 or more members. You will always be an important part of your baby's life. As a result, we want to cultivate a relationship with you at whatever level of openness you are comfortable with.
Our hearts are with you now and always.

Sincerely,
Amy and Dave

Amy
Race and Ethnicity:White, Polish/Slovak
Age: 40
Education: Bachelor's Degree in Elementary Ed.
Master's Degree in Reading
Master's in School Administration
Occupation:Educational Consultant
Languages Spoken: English/Spanish (un poquito)
Religion:Roman Catholic
Religion in which child will be raised:Christian
Children in the family:Eliana, 3, adopted
Dave
Race and Ethnicity:White, Irish/English/Scottish
Age:40
Education: Bachelor's Degree in Operations Mgt.
Master's in Business Administration
Occupation:Inventory Control Manager
Languages Spoken:English/Spanish (muy muy poquito)
Religion:Roman Catholic
We are most comfortable raising a child of any race or ethnicity.We would like to adopt a child who is up to one year old.
We would consider a child with legal risks on a case-by-case basis.
We would consider a child who has had mild drug/alcohol exposure on a case-by-case basis.
We can imagine having a close relationship, including sharing letters and pictures, having telephone conversations and periodic get-togethers with the birthparents and extended family, but are also aware that this may not be feasible for some birthparents. We will be sensitive to your wishes.
"I am a good sister because I hug warmy, gently. I will change the diaper.
We can mush pancakes for them and I can feed the pancakes to the baby when it's a little older."
-Eliana
If you want to learn more about this family, please call 1-800-321-5683 or e-mail helpline@spence-chapin.org.
Ian & Julius
Dear Birth Parent,
Our names are Ian Fernando and Julius Ramon. We are both in our late 30s and come from mixed backgrounds. We were both born in the same year and island of Leyte, Philippines. We were classmates until 5th grade. Then in 1988, Ian and his family immigrated to the Lower East Side of New York City. So it was not until sixteen years later that we were reunited in San Francisco, California. This was in 2003, more than ten years ago. We have been together ever since. In 2007, we were married.
I, Ian, am a lawyer with my own immigration law practice in Jersey City. I have been helping undocumented immigrants to legalize their status for over eleven years now. This past spring, I taught legal research at LaGuardia Community College. I, Julius, am a licensed operating room nurse specializing in heart surgeries. I have worked in this field for over fifteen years. Now, I have switched careers and works as the manager of our café called The Warehouse Cafe, which is right below our condo. This September, we also just opened Lackawanna Coffee in Bed-Stuy, Brooklyn. What has bonded the two of us is that we had been, for the most part, raised by our grandparents. For me, Julius, this included baking, which I learned from my paternal grandmother, as well as my love for playing the piano. For me, Ian, all four of my grandparents were teachers so teaching is in my history. Yet outside of my legal career, I paint and write. I also enjoy dance and had performed at the Whitney Museum Biennale in 2012. We also have amassed a great, mostly modern art collection. In all that we do, we keep playfulness and the arts in mind. Life is about working hard but we also believe in having fun and making art integral in our day-to-day. This is a way of life we will also share with your child.
We live in downtown Jersey City in a two-bedroom apartment with two fun-loving dogs: Oneida and Nito. Our neighborhood is made up of creative professionals mostly in media, design and the arts. Our apartment is only about a mile from the Hudson River, which separates us from downtown Manhattan. In the Lower East Side, where Ian grew up, his parents and sister still live. Julius' parents also live just one train stop away. We both come from big families: Ian has two sisters, one of whom is married and just had a baby girl, Naomi, to whom Ian is the godfather. Julius has three brothers and over ten nephews and nieces. Through our families, we have experienced and learned that the greatest gift anyone can give is to pass on life skills to a child who will in turn pass them on to the generation after. For both Julius and I, this is what is important to us now that we have reached the top of our careers and have not only survived but also thrived.
We trust that we have given you a window to who we are. We would honor the opportunity and lifetime commitment to parent your child. We look forward to meeting you and hope that by meeting us, you will be assured that you have made the right choice for your child. Our home is ready to welcome your child. Julius will be the stay-at-home dad and Ian will be the primary care provider. Ian will maintain his law practice and be the primary source of financial support for the family together with our earnings from our two cafés. Since our parents, extended family and friends mostly live in the New York City metropolitan area then a loving and supportive core will surround your child.
Sincerely,
Ian & Julius

Adoptive Parent Adoptive Parent
IAN JULIUS
 
Race & Ethnicity:
INTERRACIAL INTERRACIAL
 
Age:
38 37
 
Education:
Juris Doctor (Law Degree) Bachelors of Science in Nursing
 
Occupation:
Lawyer Registered Nurse & Chef
 
Languages Spoken:
English, Spanish, Cebuano English, Cebuano

Religion:
Quaker/ Catholic Quaker/Catholic
 
Religion in which child will be raised:
Up to the Child
 
Children in the family:
None

We are most comfortable raising a child whose birth parent background is:
INTERRACIAL BLACK/WHITE, NATIVE AMERICAN, INTERRACIAL ASIAN/WHITE, INTERRACIAL LATINO/WHITE, INTERRACIAL BLACK/LATINO, INTERRACIAL LATINO/WHITE, INTERRACIAL LATINO/ASIAN, INTERRACIAL BLACK/ASIAN, Latino, Caribbean, Caucasian.
 
We would like to adopt a child whose age is between:
3 months to 24 months old. (Open and flexible.)
We would consider a child with minimal legal risks and minimal amount of drug and alcohol exposure.
Open and flexible, On a case-by-case basis.
In the best of circumstances, we can imagine contact with the birth parent:
As gay men, we know too well how hard it is not to be able to live as free as we ought to be. So we support an open adoption, one that will allow the birth parent to know how her child is living his/her life with us. We commit to at least a quarterly letter with pictures of our child and twice a year in-person visits.
If you want to learn more about this family, please call 1-800-321-5683 or e-mail helpline@spence-chapin.org.